Chantal is an illustrator and designer working from the Wiltshire countryside where she lives with her two whippets.
From an early age she loved both books and drawing, so illustration was the perfect profession for her!
In 2011 she graduated with a 1:1 Hons degree in illustration and narrative from Bath University (Swindon school of art) and in that same year, her illustrations for "The Mud Monster" (published as a picture book app by Tizio BV) were highly commended in the MacMillan Prize.
She was also highly commended in the Association of Illustrators Awards in 2013 for her picture book "Sebastian".
Books from the "Pojo" series, written an published by Little Creative Days, which Chantal illustrated were winners of the 2015 Creative Play Awards and shortlisted for ERA in 2014.
Since graduating, Chantal has been working with a variety of children's book writers, poets, publishers and greeting card companies in a variety of countries. Next to working on commissions she is always playing with more ideas for picture books and especially for Horace & Nim.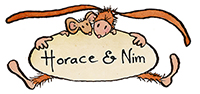 Chantal has also written and illustrated a range of children's picture book apps. Awarded with a Kirkus Star for books of remarkable merit and best app books of 2013, the apps are available through Tizio Publising and iTunes.
Should you like to know more about the apps, and what people thought of the stories and illustrations, here some links to reviews:
Kirkus review of Fierce Grey Mouse
MacWorld Australia review of Finn's Paper Hat 
iPad app reviews by Gill Robins review of Fierce Grey Mouse
iPad app reviews by Gill Robins review of Finn's Paper Hat
Giggle Apps review of Fierce Grey Mouse
MacWorld Australia review of Fierce Grey Mouse
Digital Storytime review of Fierce Grey Mouse 
iMums review of InsomniApp
Digital Storytime review of The Mudmonster 
The AppyLadies review of The Mudmonster
The iMum review of The Mudmonster
The iPad Club Benelux review of The Mudmonster (in Dutch)
To contact Chantal you can or call her on +44 (0)1380 816004